Eonii Tanzania movie 2023 – movie ya kwanza kali ya Technology Tanzania
Eonii Tanzania movie 2023 -The trailer for the new film "EONII" has been released by AZAM TV in partnership with POWER BRUSH STUDIO. The upcoming picture, titled "EONII," which will be released at the tail end of June 2023, is anticipated to transform the entire mindset of the Tanzanian film industry.
In the science fiction (Sci-Fi) movie EONII, which is based on cutting-edge technology, there are numerous situations including betrayal, conflicts, love, and a variety of other things. In 2061, when this film is set in Tanzania, technology will have advanced significantly. A technological discovery that poses a serious threat is made, and some people will use that knowledge to betray their fellow citizens. As a result, humans and robots will join the conflict along with some traitors.
The language of the movie will be Swahili, with different languages Subtitles.
Download Nyimbo Mpya Kila siku, Audio Video kutoka Tanzania Kenya Uganda South Africa na Nigeria. Kutoka kwa wasanii wote wakubwa kama Diamond Platnumz, Harmonize, Alikiba, Jux, Nandy, Mbosso, Billnass, Jay Melody, Zuchu, Marioo, Lava lava, Kusah, Yammi, Aslay, Whozu, Kontawa, Phina, Barnaba, Jaivah, Nay wa Mitego, Tommy Flavour, Macvoice, Ibraah, Platform tz, Lony Bway, Maua sama, Dayoo, ,Mocco Genius, Best Naso, B2K Mnyama, Tunda Man, Kayumba, Profesa Jay, Ruby, Mzee wa Bwax, Beka Flavour, Baddest 47, Xouh, Anjella, Rammy Music, Country Wizzy, Ommy Dimpoz, Juma Nature, Navy Kenzo, Sam Mapesa, Isha Mashauzi, Barakah the prince, Vanessa Mdee, Hammer Q, Vanillah, Nedy Music, Rich Mavoko, Songa, Madee, Ben Pol, Gigy Money, Twalbzzy, Sheta, Dogo Elisha, Linex, Kassim Mganga, Bright, Mzee yusuph, Abdu kiba, Sholo Mwamba, Haitham Kim, Hamadai, Jay Moe, Chege, Matonya, Amber lulu, Mr Blue, Belle 9, WEUSI, Q Chief, Timbulo, Lulu diva, Cheed, Shilole, Baba levo, Foby, Zee Cute, Wakazi, Lukamba, Burna Boy, Omah Lay, Otile Brown, Fally Ipupa, Joeboy, Abigail Chams, Nyashinski, Sauti sol, Oxlade, DJ Neptune,
Launching the Movie
This full movie will be released on 23rd June, 2023 in cinema (theatres) where the Regions listed for the launching event will be Dar es Salaam, Arusha, Mwanza, Dodoma as well as other regions with cinemas and there will be a Red Carpet.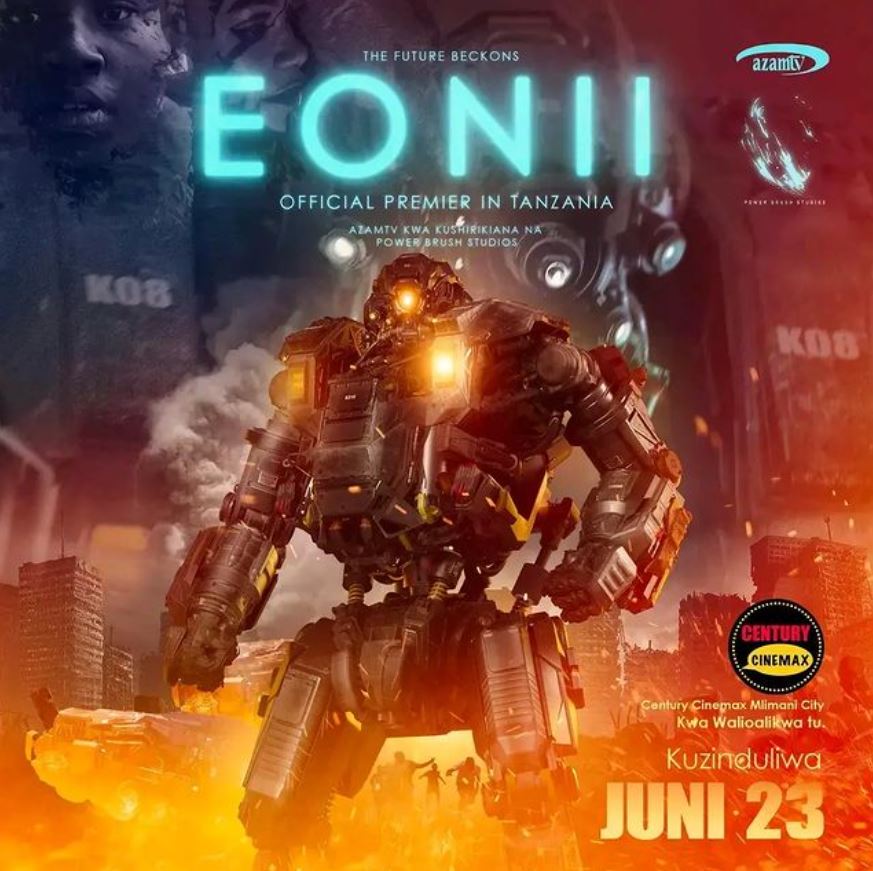 Film industry revolution​
This is a big revolution in the Film Industry in Tanzania and Africa in general. For a long time, the world of movies in Tanzania had deteriorated for many years since the late Steven Kanumba died, and now AZAM TV has shown the intention to focus on trying to make unique movies in Tanzania to compete with the world markets.
Check "EONII" Official Trailer Below;