Diamond Trust Bank Tanzania – Contacts and Location
Diamond Trust Bank Tanzania -A sizable provider of financial services in Tanzania, Diamond Trust Bank Tanzania PLC has total assets valued at TSh 1,405 billion (about US$610 million) as of December 31, 2021. Shareholders' equity was valued at TSh 209 billion (about $99,74 million) at the time. The bank has a network of 29 branches, 15 of which are in Dar es Salaam's business City while the other 14 are dispersed around the nation's key business hubs.
RELATED: Tanzania Bank SWIFT Codes – All Banks
Diamond Trust Bank Tanzania – Contacts and Location
Diamond trust bank
P.O. Box 115, Dar es Salaam
Download Nyimbo Mpya Kila siku, Audio Video kutoka Tanzania Kenya Uganda South Africa na Nigeria. Kutoka kwa wasanii wote wakubwa kama Diamond Platnumz, Harmonize, Alikiba, Jux, Nandy, Mbosso, Billnass, Jay Melody, Zuchu, Marioo, Lava lava, Kusah, Yammi, Aslay, Whozu, Kontawa, Phina, Barnaba, Jaivah, Nay wa Mitego, Tommy Flavour, Macvoice, Ibraah, Platform tz, Lony Bway, Maua sama, Dayoo, ,Mocco Genius, Best Naso, B2K Mnyama, Tunda Man, Kayumba, Profesa Jay, Ruby, Mzee wa Bwax, Beka Flavour, Baddest 47, Xouh, Anjella, Rammy Music, Country Wizzy, Ommy Dimpoz, Juma Nature, Navy Kenzo, Sam Mapesa, Isha Mashauzi, Barakah the prince, Vanessa Mdee, Hammer Q, Vanillah, Nedy Music, Rich Mavoko, Songa, Madee, Ben Pol, Gigy Money, Twalbzzy, Sheta, Dogo Elisha, Linex, Kassim Mganga, Bright, Mzee yusuph, Abdu kiba, Sholo Mwamba, Haitham Kim, Hamadai, Jay Moe, Chege, Matonya, Amber lulu, Mr Blue, Belle 9, WEUSI, Q Chief, Timbulo, Lulu diva, Cheed, Shilole, Baba levo, Foby, Zee Cute, Wakazi, Lukamba, Burna Boy, Omah Lay, Otile Brown, Fally Ipupa, Joeboy, Abigail Chams, Nyashinski, Sauti sol, Oxlade, DJ Neptune,
+255 22 2114891/2
customercare@diamondtrust.co.tz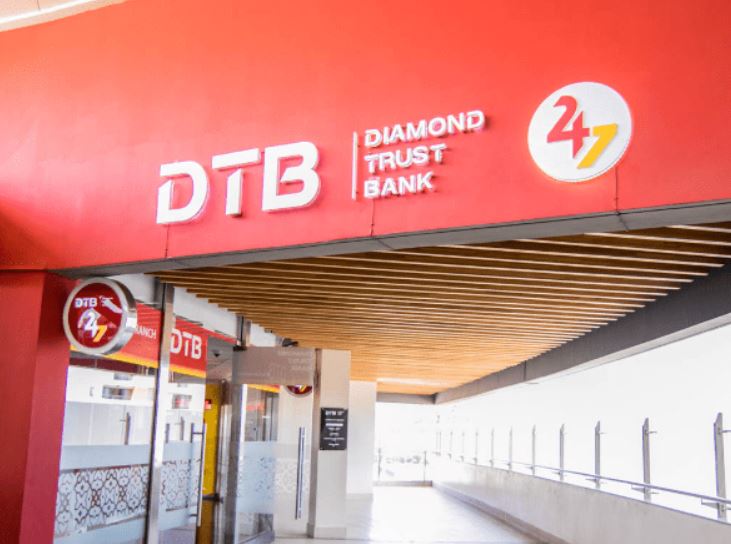 History
As Diamond Jubilee Investment Trust (DJIT), Diamond Trust Bank (Tanzania) Limited (DTB Tanzania) was established in 1945. Its headquarters are in Dar es Salaam, Tanzania, and it has branches in Mombasa, Kenya, and Kampala, Uganda. Later, subsidiaries in Kenya's Nairobi and Kisumu were also established. At that time, DJIT served the Ismaili Community as a community-based finance house that offered savings accounts and credit.
DJIT was split into three firms in 1965: DJIT Tanzania, DJIT Kenya, and DJIT Uganda, each with headquarters in Dar es Salaam, Nairobi, and Kampala, respectively. In 1990, DJIT Tanzania's name was changed to Diamond Trust of Tanzania (DTT). The Bank expanded its facilities and stopped being a community-based finance house to become a non-bank financial institution under the new name, and it started providing financial services to the general public.
In 1995, DTT underwent recapitalization thanks to a capital infusion from its shareholders. With 33% and 31% of the company's shares, respectively, Diamond Trust Bank Kenya and the Aga Khan Fund for Economic Development (AKFED) have emerged as its two major shareholders. After receiving a full commercial banking license in 1997, DTT changed its name to Diamond Trust Bank Tanzania Limited (DTBT).[5]. Diamond Trust Bank Tanzania Public Limited Company (DTBT Plc) is the new name for DTBT, which was established as a public limited company in 2022.